Hong Kong: Visiting the Buddha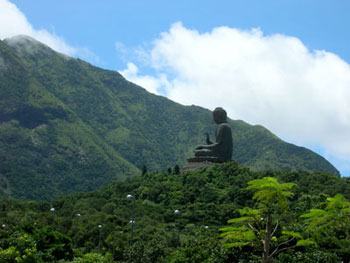 11 July 2010
In July 2010, I went on my second China teaching adventure, this time as part of a Teach For Friendship volunteer team, working with college students at Huazhong University of Science and Technology (HUST) in Wuhan. But to get to Wuhan, previous experience having taught me that Cathay Pacific is much preferable to United (or US airlines in general) for Asia travel, I had to include an eleven hour layover in Hong Kong. Too long to wander the HK airport designer shops and too short to go far afield: I decided to visit the Tian Tan Buddha (天壇大佛) at Ngong Ping on Lantau Island (close to the airport). I got in touch with the HK Su Youpeng fans to see if any of them had a free Saturday to join me, and happily, we made up a group of six for the day's excursion.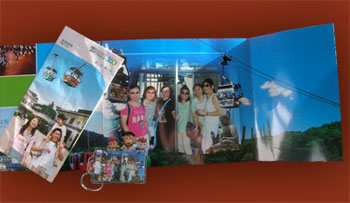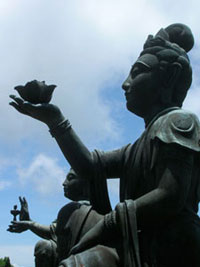 Completed in 1933, the giant bronze statue weighs 250 metric tons and is a major center of Buddhism in Hong Kong. We arrived at the Po Lin Monastery via an impressive 25-minute ride on the Ngong Ping Cable Car, gliding across Tung Chung Bay with quite impressive views of the island terrain and the Big Buddha itself. After refreshing ourselves with cold "yin yang" bean curd, we walked up the 268 steps to the base of the statue, and then circled the lotus-shaped platform where the Buddha sits with his entourage: six smaller bronze statues known as "The Offering of the Six Devas" that are posed offering flowers, incense, lamp, ointment, fruit, and music. These offerings symbolize charity, morality, patience, zeal, meditation, and wisdom, all of which are necessary to enter into nirvana.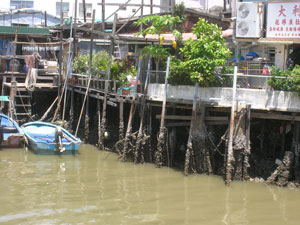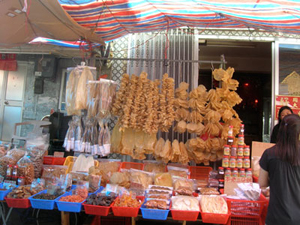 From Po Lin Monastery, we took a bus to Tai O (大澳), a traditional fishing village on the west side of Lantau Island. Although the fishing industry is dying out, the pang uks, a kind of stilt house, built right over the waterway, and the markets selling an amazing variety of salted fish, are quite scenic; one of the fans very kindly bought me a package of dried squid and something that was described to me as "fish sperm sacs" so I won't starve during my teaching gig. We visited a small museum with cultural artifacts, and also had a tasty lunch at a local vegetarian restaurant, before taking the bus back to the airport. Then, I was on my way to Wuhan. I arrived late in the evening, was graciously met by my TA Cathy, and driven to the hotel where I checked in and promptly crashed.
Next: Wuhan: China's Furnace
Return to China Summer 2010 Index