Happy Holidays!
Late December 2011

Happy New Year, my friends! I hope you are snugly tucked in somewhere with a holiday supply of booze, a stack of books and DVDs, and whatever else you need for a well-deserved rest, assuming your year has been as eventful as mine has been. 2011 started out much as usual, with the traditional Procrasmas gift exchange/sleepover followed by the traditional parade of San Francisco film festivals. I saw more plays than usual this year, as my cousin Richard was kept busy acting in local productions of Seagull, Three Sisters, Tiny Alice, and most recently—thank goodness for a respite from playwright angst!—as Scrooge in San Jose Rep's A Christmas Carol. Oh, and his wife Suzanne was a wonderful grown-up Scout as narrator in To Kill a Mockingbird. For Thanksgiving, my friend Alys and I treated ourselves to a Chris Isaak concert in Santa Rosa (a nice smallish venue but a far cry from the sweaty days of Kennel Club, I-Beam and Club Nine shows...). Don't ask about movies: I'm sadly behind in my viewing!
Mythcon was in Albuquerque this year, mid-July, which gave me an excellent excuse to visit my old friends Barb and Wendy at their farm "Gallina del Sol," where they grow heritage nursery starts and raise a wide variety of birds for eggs, meat, and feather crafts. I also spent a few days in town with Aleatha and Danielle, friends from the Global Volunteers Kunming teaching gig in 2009, who introduced me to some of the local Pueblo Indian cultural spots (and some cool Zuni earrings).
No rest for the wicked, as the annual World Science Fiction Convention took place in Reno the next month. I had what must have been the toughest position on the Renovation staff (not!): liaison to author Guest of Honor Tim Powers. This meant keeping Tim supplied with Diet Cokes, wrangling a few schedule changes, and just generally hanging out with him and his charming and indefatigable wife Serena. Between Tim's sessions, I tagged along with SF Foodies Danine and James to some tasty non-casino dinners, had one relaxing morning in the Peppermill's outdoor pools, avoided putting quarters in any slot machines, and reconnected with a few old friends.

The highlight for this year was, absolutely, my trip to Spain in September. Why Spain, you ask? Maybe because I had a poster of El Greco's "View of Toledo" in my room as a teenager. Perhaps because my high school Spanish class made field trips to New York City to see Man of La Mancha (Greenwich Village, original cast) and a NYC Ballet production of Don Quixote (Balanchine danced the lead). Or possibly because "Alhambra" is just such an evocative word....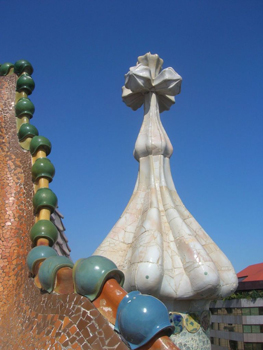 Travelling alone and too lazy to opt for do-it-yourself planning, I decided to sign up for one of the Rick Steves tours: small group, light luggage, lots of walking and free time, plus a "no whining" clause in the contract made this option sound very attractive. And, in fact, the entire experience was fabulous. We spent 2 weeks+ exploring (mostly) the southern half of Spain, with a side visit to Tangiers via ferry from Tarifa. Our guide Helen, a bubbly blonde Brit with flawless Spanish, who had lived around the Mediterranean for over a decade (and now lives in Brazil when she's not leading tours), took most excellent care of us and somehow managed to smuggle in extra snacks (and wine!) wherever we were going. In addition to several major cities (Barcelona, Segovia, Madrid, Toledo, Granada, Sevilla: each city had its own personality and charms, making it impossible to choose one favorite), we toured a windmill in La Mancha and a sherry bodega in Cadiz, visited an Andalusian horse-breeding farm, popped in on an archeological dig at a Roman site on the south coast, explored Spain's oldest bullring in Ronda, and enjoyed a relaxing two nights in a convent-turned-hotel in the lovely whitewashed town of Arcos de la Frontera (those nuns had quite a view, perched on the edge of the cliff overlooking olive groves, the Sierra Nevada mountains, and—on very clear days—the coast of Morocco). Speaking of Morocco, our two days there were full of colorful sights and surprising discoveries. Tied for the most fun: enabling my roomie Susie in her purchase of two stunning tribal rugs and just hanging out on the third-floor terrace of our charming hotel, La Tangerina, in the depths of Tangier's Kasbah.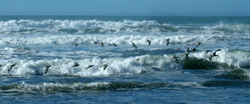 I will be posting a travel journal for this Iberian adventure, but the project got a little sidetracked due to an unforseen blip upon my return home (after a week-long stopover in NJ to visit some friends, my sibs, and a handful of other relations). I discovered that I had to move—not being willing to accede to my landlady's request that I relieve her of responsibility should I get carbon monoxide poisoning, whereas living in an illegal unit meant that any action would end in my eviction anyway! Further out in the Richmond district of San Francisco, in a small 1926 apartment building, I found a delightfully funky studio with an ocean view (and other luxuries including a stove, bathtub, heat, and a laundry on the premises), and I am now surrounded by random boxes full of stuff. (Anybody out there perfected Tardis technology yet? I could use it!) Open House Warming is planned for mid-January. My brother Kevin is driving up from LA for Christmas, and I am looking forward to spending my year-end holidays relaxing at home, sipping 'nog and watching the fishing boats haul in their crab catches. And maybe spotting a few stalwart surfers. Come and visit!