黄山: Huangshan (Yellow Mountain)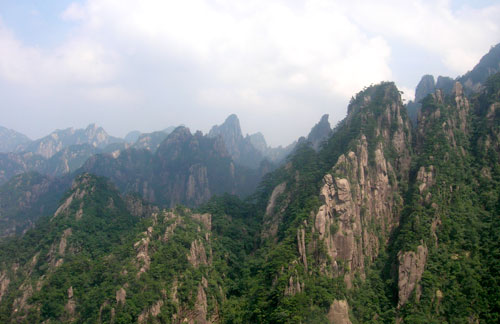 Huangshan is probably the most famous scenic mountain in China. A quote attributed to Xu Xiake, one of Ming Dynasty's most renowned travellers, claims that visiting China's Five Sacred Mountains makes trips to other mountains unnecessary, but after seeing Huangshan, there is no need to even visit the other five sites. Located in the south of Anhui Province, Huangshan was called Yishan Mountain in the Qin Dynasty (221-206BC), and got its current name in 747, during the Tang Dynasty (618-907). The area has a complex geological history, and a well-preserved ecosystem with some 1,450 native plant species. Very popular with tourists, both Chinese and international, the major scenic spots are accessible by cable car systems and well-maintained stone paths, some thousands of years old.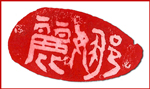 There are several lodging options atop the mountain; our group stayed in the Beihai ("North Sea") Hotel (ostensibly 4-star but not from any identifiable constellation), which was a half-hour hike from the cable car station. The entire hotel complex seemed to be under construction both inside the rooms and out: Lynn and I resigned ourselves to shouting greetings to the workmen outside our window as it would have been rude to ignore anyone so close. The food was unremarkable, at least in any positive sense. I did purchase a seal with my Chinese name (麗娜) carved on a Huangshan stone by an artisan with a shop in the hotel lobby; pretty cool! There was also a talented and colorful resident landscape painter (a famous one, per our guide, but everything and everyone is famous according to the official Chinese tourguide manual). More economically-minded visitors could rent sleeping space in one of the small tents set up in a concrete lot, just outside the hotel's entrance.
Up in the clouds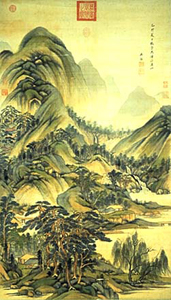 Huangshan's 70+ named peaks are adorned with the mountain's "four wonders": strange pines, fantastic—or my favorite appellation from one Chinese guide, absurd—rocks, hot springs, and the sea of clouds. The mountain has long been connected with Chinese legend, including visits by members of the Eight Immortals and the attempts by the Yellow Emperor Huangdi and his alchemists to create an immortality pill. Many of the landmarks are imaginatively named after legendary, romantic, and historic events or characters: Begin to Believe Peak, The Immortal Points the Way, Cloud-Dispelling Pavilion, Phoenix Pine, Fairy-walking Bridge, Flying Over Rock. The mountain's cultural influence is well-documented through centuries of poetry and art, even inspiring the Xin'an school of Ming, Qing and modern landscape painting. Currently, Huangshan is also famous for being the inspiration for the "Hallelujah Mountains" on the planet Pandora in James Cameron's Avatar (which all tour guides are diligent in pointing out). The movie was wildly popular in China although netizens argue over whether the director got his mountains mixed up.
We spent two nights on Huangshan and took several walks to various scenic areas (including our treks from and to the cable cars). Our patient guide pointed out innumerable tree and rock formations with fanciful names and back stories, and we took tons of photos. Summer is not the ideal time to see Huangshan at its poetry-inspiring finest, enshrouded in misty waves from the "sea of clouds," but the mountain is undeniably impressive and beautiful in any season.
Approach of the storm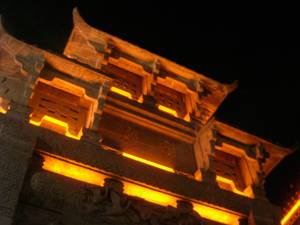 After descending the mountain, we made a stop at a local museum in Tunxi, the old Huangshan city—this being one of China's unique combinations of historic building, lower-tier cultural artifact collection, resident artist studio, and souvenir shop. Poking around the assortment of paintings, jade ornaments, old coins and Mao buttons was fun, with the extra spectacle of watching an approaching thunderstorm. We had a quite decent dinner in a restaurant with our own private room: the most socially enjoyable group meal during the journey as everyone was approaching a state of end-of-trip giddiness. There was time after our meal to explore Tunxi Laojie ("Old Street"), a bustling tourist attraction of older buildings with shops selling teas and calligraphy supplies. Nestled among the souvenir hawkers and trendy clothing stores were a few brightly-lit stages, one of which had a giant spooky "Hai Bao" (the Expo mascot) beckoning us to the airport and our short flight to Shanghai.
However ...