Ninja Camping in Australia
I travelled to Australia over the Christmas holidays (summer Down Under) back in 1983–4, meeting up in Sydney with a friend, who taught me to body surf at Bondi Beach (something I never quite mastered during my four years in Hawaii). Then we were off on a three-week road trip, Jeff's main purpose of which was to find a barrel of the perfect port that he planned to somehow fit into his apartment. First stop on our adventure, we spent Christmas day with a bunch of crazy Irish people who insisted in baking a turkey (stuffed with potatoes) although it was 40 degrees Centigrade, we had one floor fan which we fought over, and we ran out of ice and booze. After heading to the coast for some scuba diving, we reached Melbourne, and stumbled into a three-day New Year's Eve party and spent most of our visit there in the pool, with beer. I did not see much of that city.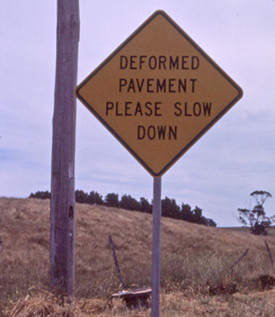 Leaving Melbourne for points south, we started the Quest for Port. During the trip, we were to visit 46 wineries, in five days. Fortunately, these were not five consecutive days. Between wine tastings, we stopped at pubs to investigate Australian barman expertise in pouring Guinness. Aussie bars are unique entities onto themselves. Most of them have (or had, back in the '80s — hopefully things have changed!) two rooms: the bar, and the lounge bar; the second allowed women. On my first trip to Australia a few years earlier, my friend Debby and I had gone for a day jaunt outside Canberra with her two-year-old, and we stopped at a pub for refreshments. It was the middle of the day, and the place was completely empty except for one old guy sitting in a corner and the barman, who was wearing a singlet (that's an undershirt in the US; it was once again summer Down Under). He mysteriously disappeared for a bit, then re-emerged wearing a shirt, jacket, and tie, with his wife in tow. Embarrassed, we realized that we had inadvertently invaded male-only turf. But I digress.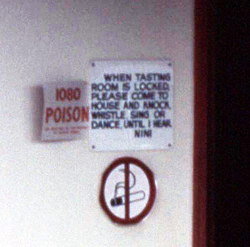 During this later trip, after exploring Geelong, McLaren Vale, and the Barossa Valley wineries and stopping briefly in Adelaide where we set up our tent in the back yard of a guy I'd worked with at the University of Colorado, Jeff and I stopped for a beer break at a pub in Mount Mary, in the Murray River Valley (more wine). We were greeted by a cheerful barman wearing a grass skirt and coconuts; it was a bachelor party (co-ed) and we were invited to join in the festivities, which of course we did.
Curiously, a cricket game was playing on TV in every pub we visited. The same cricket game.
Jeff and I travelled in a borrowed car (a Rover 2000 named Dorothy) that broke down A LOT, especially when we started skirting the Outback. We ran out of gas in Clare, which fortunately had a few nice small wineries worth sampling. Dorothy developed an oil leak and went dry near Cockburn, probably the most dismal place I've ever seen. Our arrival in Broken Hill, where the car battery died for the first time, was heralded by about two hundred hawks circling the town entrance. I took it as an omen; Broken Hill is where they filmed The Road Warrior.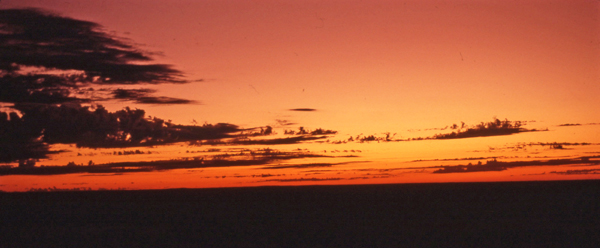 The big breakdown was at sunset, somewhere outside Wilcannia. Sunset was lovely, car totally dead, so we got a tow into town, where a mechanic thought he could fix the car the next day. We spent several hours that evening in a diner losing at backgammon to the petrol station owner (to soften him up), and, after closing, the mechanic let us sleep in the bed of a dump truck parked in the back yard. What he didn't mention was that the owner let his pit bulls sleep in the yard, too, so we spent the night gazing up at the stars and keeping very, very quiet.
So, here's the deal about ninja camping. You travel as far as you plan to that day, and drive around looking for a likely spot to put up a tent. Then you find a pub, settle in until it closes, and head back to your camping spot after dark. The next morning, you pack up and move before somebody spots your tent, and continue on to your next destination. This plan generally worked well for us, except for one time we chose a nice secluded area in a vineyard — I forget where but we drank a lot of beer in the pub that night. What we didn't notice was the railroad tracks about a foot from our tent, and at 4 a.m. a freight train came barreling through, sending us both straight up into the roof. It's one way to wake up in the morning, but I prefer coffee.
Eleanor Farrell
Intrepid World Traveler and Ninja Camping Expert
P.S. The port quest was ultimately successful, Saltram Winery's Mr. Pickwick's Port being the clear winner. Pretty yummy stuff!
moonsong.us Index