Shanghai in the time of Expo
Comes the deluge
Little did we know, as we happily boarded our minibus to the Huangshan airport, that the threatening storm was about to descend in full fury, physically and otherwise. Our flight was delayed because of the very impressive thunderstorms on both ends, and after we checked our luggage we were all taken to a nearby hotel and given rooms to get a little sleep until the planes were cleared to take off. I managed to grab room keys and finagle Sally as my roommate by putting our two "problem people" together, with the unintentional result of initiating a total meltdown by the irresponsible child-woman and a banging on our door for refuge from same by the schizophrenic sociopath. Needless to say, none of us got much rest before our midnight-ish wake-up calls and trip back to the airport. On the other hand, as I rode up the escalator to the gate area the TV monitors were showing the Little Tigers performance from the 2010 Lantern Festival, which I took as a good sign. Our travel to Shanghai was uneventful, except for the loss of all of our group's checked luggage but mine. It was 4 am before we got to our hotel, explained to our young and very inexperienced guide that we (well, most of us) had no interest in an early morning visit to breakfast, the Expo, or anywhere else, and retired to bed.

中国2010年上海世界博览会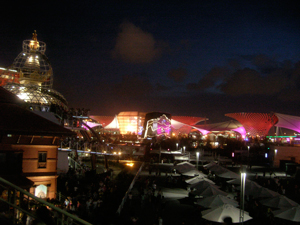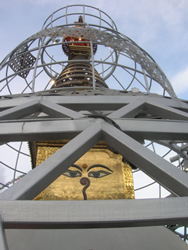 Next morning (not early), more discussion about who was going where and when, with more consternation by our guide. All but one of us decided we'd prefer seeing the Expo at night and didn't need a full day there, so we arranged to meet at 4 pm. Jennifer, Mike and I went to the arranged lunch (dinner was out since we'd be at the Expo), very posh hotel restaurant on the Bund with decent but not spectacular food. It was hot and a bit muggy, so the later Expo visit decision turned out to be a good choice: still crowded but rather pleasant to wander about. Sally, Kay and I had dinner at the Nepal Pavilion (smelled better than it tasted, but there was beer!), and walked through a couple of the other Asia-section sites, sticking to ones without long lines. For anyone who was geniunely interested in the Expo theme ("Better City—Better Life") and technical displays, at least a few days would be required; most of our HUST students had or were planning to do that for their excursions.
R&R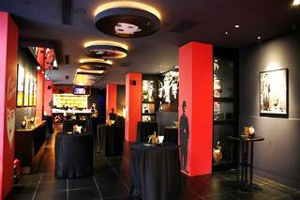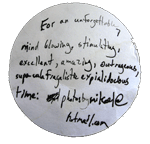 We didn't want to crash after returning to the hotel—after all, it was our last night in Shanghai! On the other hand, searching for one of the city's current hot spots was a bit too much trouble. Luckily, our hotel had a bar, at the end of a long, quiet corridor, inexplicably sporting a Charlie Chaplin theme but serving excellent margaritas and wasabi peas. Yum! Just the ticket for winding down and end-of-trip musings about the weirdness of our little group. The house band was a lot of fun with a very broad repertoir, and we closed the place down. Mike even joined them onstage for a song, and at some point he wrote up a review of our evening (or, er, something) on a bar napkin.
Dating game, Shanghai-style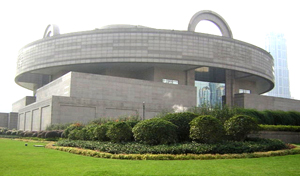 Since my flight home wasn't until late afternoon, I had time for a visit to the Shanghai Museum (which I had missed during my 2006 trip), with its world-class art collection. Sally decided to accompany me, and being decadent (and tired) Westerners, we took a taxi. The museum is among the best of Shanghai's delightful collection of fantastic architecture, the building shaped like an ancient Chinese kettle with a glorious skylighted staircase inside. The exhibits were terrific, as was the museum shop (we both picked up quite a few souvenirs here). The museum borders People's Park and one end of the Nanjing Road shopping district (the Bund being the other end), and is surrounded by more architectural wonders. We grabbed some street food and headed into the park, where the Shanghai live version of the personal ads was in full swing. Dozens of middle-aged parents displayed placards with their unmarried children's eligibility bona fides, checking out the rest of the field and hoping to do a little matchmaking. Elsewhere, a group of younger locals (probably including a few of those lazy single kids who were delinquent in finding their own spouses) were getting a free lesson in pop dance moves. (Our HUST students had all learned quite a few of these from watching music videos, a current top fave being Lady Gaga's "Paparazzi.")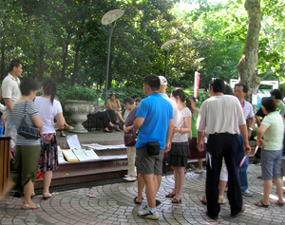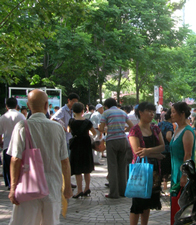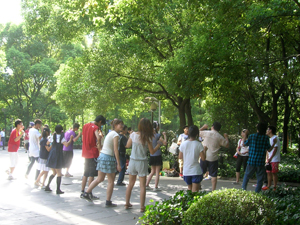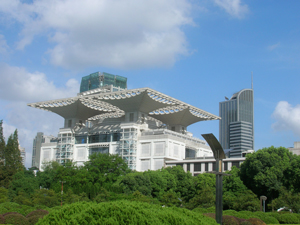 Back to the hotel, packing, a parting beer with Sally, and off to the airport for the trip home, via Hong Kong. Not realizing that the domestic terminal at Pudong would be bereft of an official Expo shop, I didn't pick up any useless souvenirs (probably just as well). In Hong Kong I had to go through check-in inspection three times (!), and wait through another thunderstorm delay. But at least we had a great view of the impressive lightning strikes from the waiting area. Watched several movies during the flight to San Francisco (I love Cathay Pacific!), made it safely to my apartment, and crashed. All in all, another fabulous trip to China.
Next: Reference Links
Return to China Summer 2010 Index