武當山 Wudangshan: Taoism and Taiji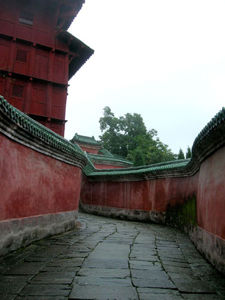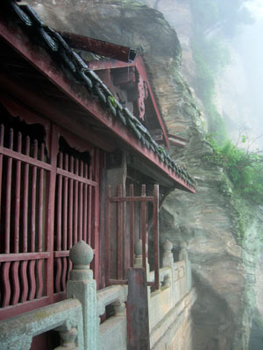 Wudangshan, six hours or so by bus from Wuhan, is one of the most prestigious mountains in China. It is an important center for Taoism, and the home to taiji, a form of martial arts attributed to the semi-mythical Zhang San Feng, a Taoist monk. An overnight trip to Wudang was offered to the TFF faculty as an optional tour midway through our teaching program, and most of the teachers joined in. Unfortunately, the weather was not on our side: although monsoon conditions had somewhat subsided, it was still raining when we arrived, which meant no outdoor taiji demonstrations. In addition, the cable car to the top of Wudang was broken, and with bad weather, limited time, and some general reluctance to hike uphill for 3–4 hours, we weren't able to reach the top peak, from which the view was most likely obscured by mist, clouds and fog anyway. Luckily, there was still plenty to see, including several temples and shrines and a wooded area allegedly populated with monkeys (we didn't see any of those, either).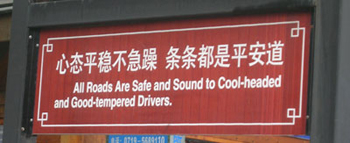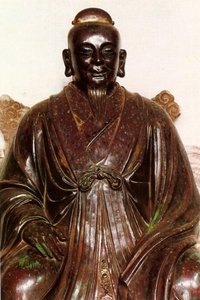 Our local guide had problems reining in such the large TFF group, with various members wandering off, dawdling in the shops, or generally just not paying attention to directions for when and where to meet up, but it was just a weekend so not worth getting too annoyed about. Wudang is quite a beautiful spot, even with its views restricted by mist, and I enjoyed wandering around the various buildings and along the cliffs. Wudang, which was built as an organized complex during the Ming Dynasty, contains Taoist buildings from as early as the 7th century, representing the highest standards of Chinese art and architecture over a period of nearly 1,000 years. In 1994 the Ancient Building Complex in the Wudang Mountains was declared a UNESCO World Heritage Site. I must say, however, that I did not recognize any landmarks from multiple viewings of Heavenly Sword and Dragon Sabre ... though I don't recall that Zhang Wuji spent any screen time actually climbing up the mountain. In any case, I took the liberty of passing on Wuji's regards through one of the statues honoring his 师傅 (shifu), prominently placed in one of the temples.

Next: Jiuhuashan
Return to China Summer 2010 Index