武汉 Wuhan: China's Furnace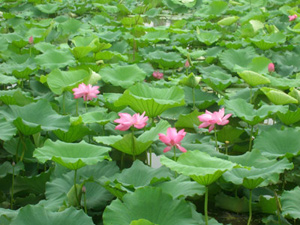 Exploring Wuhan
Wuhan is the capital of Hubei province, the most populous city in central China and a transportation hub. The Yangtze and Hanshui Rivers separate the three parts of the metropolitan area: Wuchang, Hankou, and Hanyang (the name "Wuhan" is derived from those of these three towns). In addition to its industrial importance, Wuhan is the scientific and educational center of Central China, boasting 35 institutions of higher education. Wuhan University and our host, Huazhong University of Science and Technology, are top-ranked among Chinese universities. Wuhan is also famous for its climate, although not in a good way. Known for its oppressively hot and humid summers, Wuhan is commonly known as one of the "Three Furnaces" of China, along with Nanjing and Chongqing. 2010 has been an unusually wet summer in Asia, with devastating flooding throughout China, and for the first week of our program it rained practically non-stop, which at least kept the temperatures in the low (rather than high) 90s; the humidity, of course, hovered around 100%. I was very happy to have brought my Croc sandals; since these were rubber they dried out quickly after walking to class through puddles and often streams of water.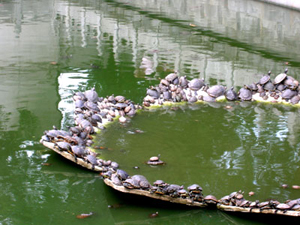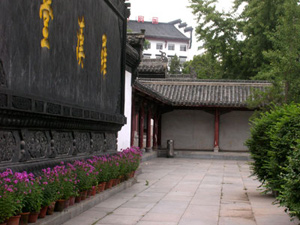 Even without floods, Wuhan is a watery city. East Lake is the largest lake within a city in China, and there are many smaller lakes and parks. On Saturday following the first week or classes, we had a city tour that included visits to the Botanical Garden, with the lotus in bloom, as well as Guiyuan Buddhist Temple (Temple of Original Purity) and the Hubei Provincial Museum. The temple had an abundance of turtles, an enormous outdoor statue of Guanyin, and a set of 500 gold arhats. A tradition here is to determine your fortune by choosing one of the arhats and counting from there a number corresponding to your age. Then you can purchase a golden metal card with the arhat's image plus some poetic text that has significance for your future. I've forgotten what my fortune was all about, but it seemed generally positive.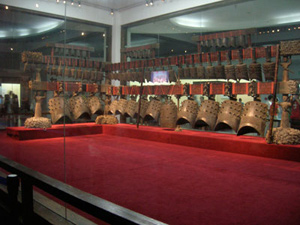 The Hubei Provincial Museum, near East Lake, is one of great national repute, housing many cultural relics that have been unearthed from the tomb of Marquis Yi, the king of Zeng during the Warring States Period (476–221 BC). The most famous treasure is the Chime Bells, the largest bronze musical instrument ever discovered. The largest bell weighs over 200 kg, while the smallest bell has a height of 20 cm and weighs 2.4 kg. Each bell in the set of 64 can play two different tones of the musical scale. Reproductions of the bells have been made, and musicians in period costume perform for visitors throughout the day.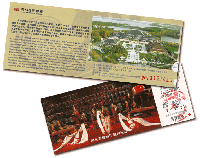 Tickets to Chinese museums and scenic areas are pretty cool, and the tour guides always make sure to pass these out to their group members to keep as souvenirs (for scenic spots, the ticket pictures can be much better than the local weather conditions allow for photography). At the Hubei Museum we got two tickets: one for the museum itself and another for the bell-ringing performance, which was short but colorful and very pleasant to the ear.
Hubei Cuisine
Hubei cuisine is characterized as oily and spicy, with an emphasis on careful preparation. Wuhan has its local food specialties, among them hot dry noodles, spicy duck neck, and doupi, and is also famous for dishes made with local fish. We made sure to try them all during our three-week stay, thanks to our dauntless TAs who took us to a variety of excellent local restaurants. We also had a terrific meal featuring spicy crawfish (xiaolongxia), during an impressive thunderstorm, with some of Sally's students from her previous tenure at HUST a few years back. Here are some snapshots of Wuhan culinary specialties as well as the ubiquitous "雪花" ("Snow") beer. Sally and I were regular 啤酒 customers at the small shop just around the corner from our hotel, whose beer was cheaper than bottles purchased from the hotel restaurant, although not always cold. (It was a hot summer and beer was in great demand, especially by us.)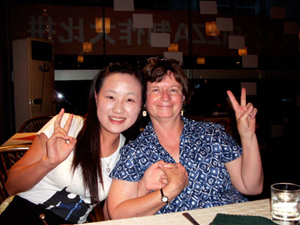 In return for their sharing local treats, Sally and I treated Cathy and Doris to pizza at Giano's, a favorite with TFF teachers. Personally, I never tire of eating local food when I travel, but the terrific service at Giano's merited several return visits during our three-week Wuhan stay. The owner, Jane Feng, learned how to make pizza while doing biology research (I love reading about radical career changes!) in New York, later returning home to open her own place. She is a delightful hostess in addition to creating a very tasty pie. (Being from New Jersey, I know whereof I speak, pizza-wise.)
Next: A Little Light SYPing
Return to China Summer 2010 Index